Verity Church is active...
We believe in sharing the blessings that God has given us with those in need. This includes blessings of knowledge, the most important being knowledge about Jesus Christ and the good news He brings for each person. We also share our blessings of finances and goods. Below are some of the projects we have done in 2020.
(That means the leaders and everybody!)
May, 2020: Kraft Dinner drive
Kraft Dinner is in great demand at foodbanks, so Verity folks decided to support the Salvation Army's food drive by donating some KD… over 1000 boxes of it!
In this time of financial hardships for many people, Verity helps foodbanks and other effective efforts to help those in need.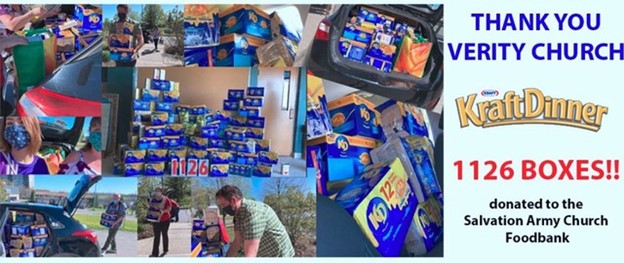 June 2020: Tim Horton's gift cards for front-line workers.
Inspired by Verity members who serve as chaplains at a retirement residence, we collected $5 Tim Horton's gift cards for the 50 staff at that residence. Each of these front-line workers received three gift cards, along with a hand-written thank you letter. The leftover cards went to other front-line workers connected with the Verity family.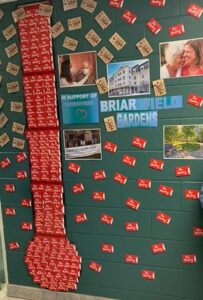 July 1, 2020: Canada Day!
The Verify building is across the street from a shopping centre, so there's quite a bit of foot traffic going by. We took advantage of our location to meet the neighborhood on July 1 (being careful to follow safety guidelines). A drive-through area was used to hand out hundreds of free sparklers to families, and a card that introduced the church and asked the question, "How can we serve you?". Our neighbours also appreciated the free jazz concert by "Uptown Sound", who volunteered their time to perform in front of the building.
September 20, 2020: Corn Roast
To start off the new Autumn season, Verity folks got together to enjoy a physically distanced picnic featuring roast corn. This was a great chance for us to get to know each other better, since there are always new people! (You are welcome too!)
Like everybody else, we're eager for the time when we can meet freely indoors and outdoors, without worrying about masks and distancing. Meanwhile, we use Zoom and other ways to fellowship so join us any time!
Thanksgiving, 2020: Sewing Machines for Widows' School in Nigeria
Two ladies associated with Verity work in Nigeria at a school training widows to start a sewing career. This year 17 ladies graduated from the school, and Verity folks donated enough money to buy a sewing machine for each graduate. This let these widows immediately start their own businesses to escape poverty.
October 31, 2020: Halloweenies
Some people think that Halloween celebrates evil, but did you know that the name "Halloween" implies that evil is weaker than good? (Look up the history.)
We decided to reclaim the day with the family fun of meeting our neighbours (while making a rather bad pun).
December 2020: Presents for Neighbourhood Kids
Working with Lincoln Heights Public School staff, we gathered presents to be given to parents to give to a couple of dozen disadvantaged kids in the neighbourhood. A gift tag was made for each child, saying the gender, age, and wish list of the child. Verity folks chose a tag and brought an unwrapped gift to the church, where the parents picked them up the week of December 14.
In a year where money is tight for many people because of Covid-19 problems, this is a particularly timely way to bless families.